Success Story
Building a Successful Onboarding Programme
How Checkmarx used Learn Amp to build an onboarding programme that slashed time-to-productivity and supercharged their learning culture. 

10 
days faster
time-to-productivity 
One-stop-shop
learning ecosystem

65%
learners
returning every month
The context
Checkmarx is an award-winning and pioneering software security company. It provides innovative Application Security Testing solutions that support businesses and developers in securing their software against vulnerabilities, while continuing to set new and improved standards.
Checkmarx's is constantly seeking to improve on emerging technologies and vulnerabilities, and to help developers and enterprises code better and smarter to protect themselves. A unicorn and an industry leader, Checkmarx is keen to share its expertise—both internally among their employees and externally with their customers and partners. 
With 9 offices covering 23 countries, Checkmarx prides itself on its creative, innovative and diverse workforce. A fast-paced and agile business in an ever-evolving space, they needed to create a world-class onboarding programme that could be accessed anywhere, and a world-class onboarding LMS (Learning Management System) to deliver it.  
"Learn Amp allows us to create sales enablement programs that improve our product knowledge and sales skills significantly.   

It allows us to create programs that are self-directed, time-saving, and practical. We often use exercises to allow learners to take an active role in their learning journey and involve managers as coaches.   

Learn Amp helped us reach 97% active learners by providing a one-stop-shop for all learning activities and providing a learning experience that makes people come back to it again and again."
The challenge
The key goal for Checkmarx was to reduce time-to-productivity, so that new employees could get up to speed as quickly and efficiently as possible. For this, the L&D team needed an onboarding program that could:  
deliver a consistent learning experience for all new hires, wherever they were based,  
make new employees feel like an integral part of Checkmarx life from Day 1.  
In addition, they wanted to build a user-friendly self-service model, so that customers and partners alike could have the Checkmarx products and resources they needed right at their fingertips. 
Focusing on two key roles as a starting point—software engineers and sales teams—the team needed:  
a solution that could offer

tailored content to different user groups

, both internal and external  

an

intuitive user interface

that could be customised to match their branding  

engaging

learning pathways

that would enable people to direct their own learning    

powerful

reporting

that could demonstrate ROI 
Nati Aluk, Global Learning & OD Manager, led the team to first define a time-to-productivity metric for each role, setting baselines to check improvements and measure ROI against.   
For example, for software engineers, as part of defining how they'd like to make improvements to time-to-productivity, Nati identified key tasks that, once completed, would demonstrate that newly-hired engineers were 'at productivity'.
Why Learn Amp?
To meet this challenge, Checkmarx needed to find the best LMS for corporate training. They decided to migrate from Litmos to Learn Amp for a number of reasons:  
Learn Amp's multi-account option

supported their need to manage internal and external use cases. 

The user interface could be customised

to fit Checkmarx's brand while also being tailored to meet the needs of different user groups. 

Learn Amp's flexible learning pathways

, learnlists and content creation options would allow them to deliver engaging and enjoyable experience for all users.  

Drill-down reporting tools

would enable them to demonstrate ROI against their chosen baselines.   

Integrated content libraries

, which meant Checkmarx could establish the platform as a one-stop shop for all their content including from providers like Pluralsight.  
"We chose Learn Amp because it would enable to create structured programmes that embedded opportunities to assess the quality of learning through assignments and exercises, meaning our programmes could offer not only the theory but also the opportunity for practical application of skills, and therefore enable us to truly change behaviour." 
The solution
Multi-account options
First off, Checkmarx needed to be able to manage and deliver content in different ways to a range of internal and external stakeholder groups—customers, partners and employees. Learn Amp's multi-account structure allowed Checkmarx content experts to create and manage a central 'parent' content library and share tailored content to different 'child' accounts as needed.  
Brand and team identity  
With Learn Amp's flexible branding options, Checkmarx were able to create a look and feel for the platform that was familiar and consistent for its employees and customers, while adding 'personality' to learning and development.  
In order to create a strong sense of brand around the learning offering at Checkmarx, in-step with Checkmarx innovative culture, Nati and team gave each account a unique identity.
The employee platform was dubbed 'Eureka', to encourage employees to unlock their own 'Eureka!' moments through being able to find all the learning resources they need in one place, every time they need an answer. The sales enablement series was entitled 'Sales Athletes' to highlight training as a process of continual improvement. In the same vein, the Sales onboarding programme was labelled 'Sales Bootcamp'.  
To generate excitement for the launch, Nati led a communications project, including a video 'teaser' for Eureka featuring key members of the Checkmarx team.
This was part of an extensive campaign that was crucial to generating engagement and excitement for the launch of the platform: including, a prize-draw in which Checkmarx asked their employees to come up with the best name for the platform.
The fact that the platform had such a successful launch campaign, masterminded by Nati, has led to a consistently engaged user base since launch, with on average 65% learners returning every month, and 40% returning weekly. 
Breadth and depth of content for a high-expertise environment  
Checkmarx leveraged Learn Amp's Pluralsight, LinkedIn and Udemy integrations to ensure Eureka could give all Checkmarx employees a single learning ecosystem to meet all their diverse needs. Starting with the Sales team, 'Enablement' channels were created for each area of the business, with content relevant to those roles, so that people could find exactly what they needed at point of need.   
With Learn Amp's customisable dashboard, the team made sure that the interface made searching and navigating easy, while highlighting relevant, personalised content and key upcoming events, right from the moment they first logged in.  
Onboarding for a sense of belonging  
Next, Checkmarx set about building a world-class onboarding program, using Learnlists and channels to create engaging blended onboarding. New hires could find introduction videos from their team and leaders. Gamified eLearning courses such as 'AppSec Virtual Escape Room' added a little fun to learning about the business, while survey tools enabled users to offer regular feedback.  
With Dynamic Groups, admins could easily assign learning programmes to the relevant team members. This meant that every new hire had a comprehensive introduction to Checkmarx and a clear sense of direction right from Day 1. 

Role-specific onboarding and assessment  
For individual, role-specific onboarding, the Sales and software engineering teams attended live kick-off events on the platform and access the recordings post-session.  
The Sales Enablement and L&D teams also used Learn Amp to come up with creative learning assessments. Users could take quizzes to test their knowledge retention, highlight any onboarding misconceptions, and generate reports to inform any adjustments needed to learning materials and approaches.  
Sales teams could practice mock demos, sales pitches and elevator pitches. Learn Amp's Scoring Rubric then allowed managers to effectively assess the readiness of new hires and highlight any interventions or extra support needed.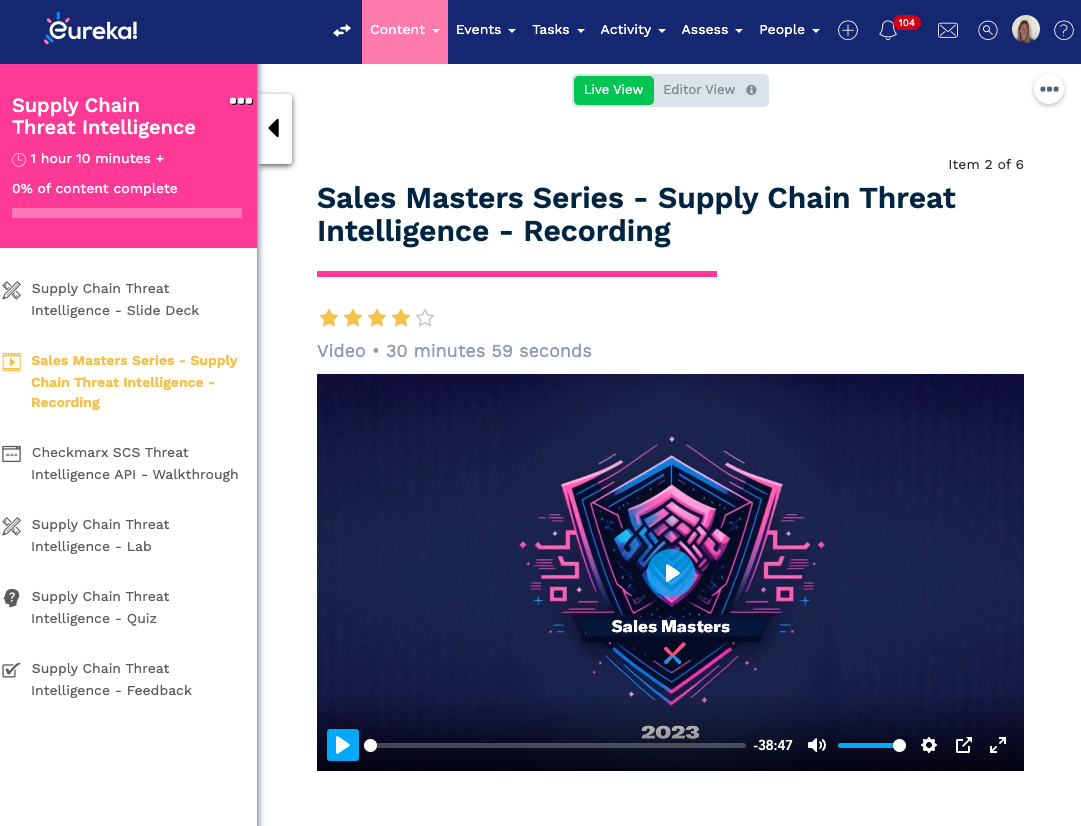 Correlating multiple sources of data  
To supercharge their impact reporting, Nati and team connected Learn Amp to PowerBI, which enabled them to pull real-time data to create a dashboard of meaningful insights. Flexible dashboards correlated engagement in Learn Amp with data from other sources, such as project management platforms, to illustrate task completion time. This gave them an accurate assessment of ROI - starting with the measurement of time-to-productivity. 
Building a learning culture 
Finally, to create and sustain the thriving learning culture they wanted to build, Checkmarx L&D hosted learning campaigns like Geek Days and Learning Days. Learn Amp's event management tools made organising a breeze. Flexible permissions allowed hosts to launch and manage attendance without needing admin permissions, while online forums helped tap into existing subject matter expertise. 
Geek Days included live sessions on technology and engineering topics such as vulnerability of chain, and hidden services cryptography. The Zoom integration automatically uploaded recordings to Eureka, so they could add to Checkmarx's organisational knowledge. The Geek Days series drew record engagement, generated terrific feedback and gave recognition to subject matter experts (SMEs) among the staff.  
Learning Days were hosted by various SMEs across the business, on topics such as Growth Mindset, creative teams, customer centricity, and SaaS mindset. so that individuals could hear from their peers, building excitement pre-learning day, and ensure that content could be easily shared across the business post-learning day.  
The results
With the environment around software security so dynamic, it's vital for a company like Checkmarx to be always at the top of their game.
This means new staff need to be able to hit their stride quickly. Employees, partners and customers need access to up-to-date resources and products. This is why the time-to-productivity is so crucial for Checkmarx's continued success.  
With Learn Amp, they are already seeing the difference. The time taken for software engineers and sales teams to reach productivity has reduced, and Checkmarx are continuing to monitor time-to-productivity via completion of key activities. 
With content easily shareable across business functions, both internally and externally, the L&D teams have been able to provide real value and impact business results faster.
 When it comes to Checkmarx's impact as a leader on customer and partner education, they have also seen better engagement: with an average of 35% of customers and partners returning at least monthly to explore and discover new content.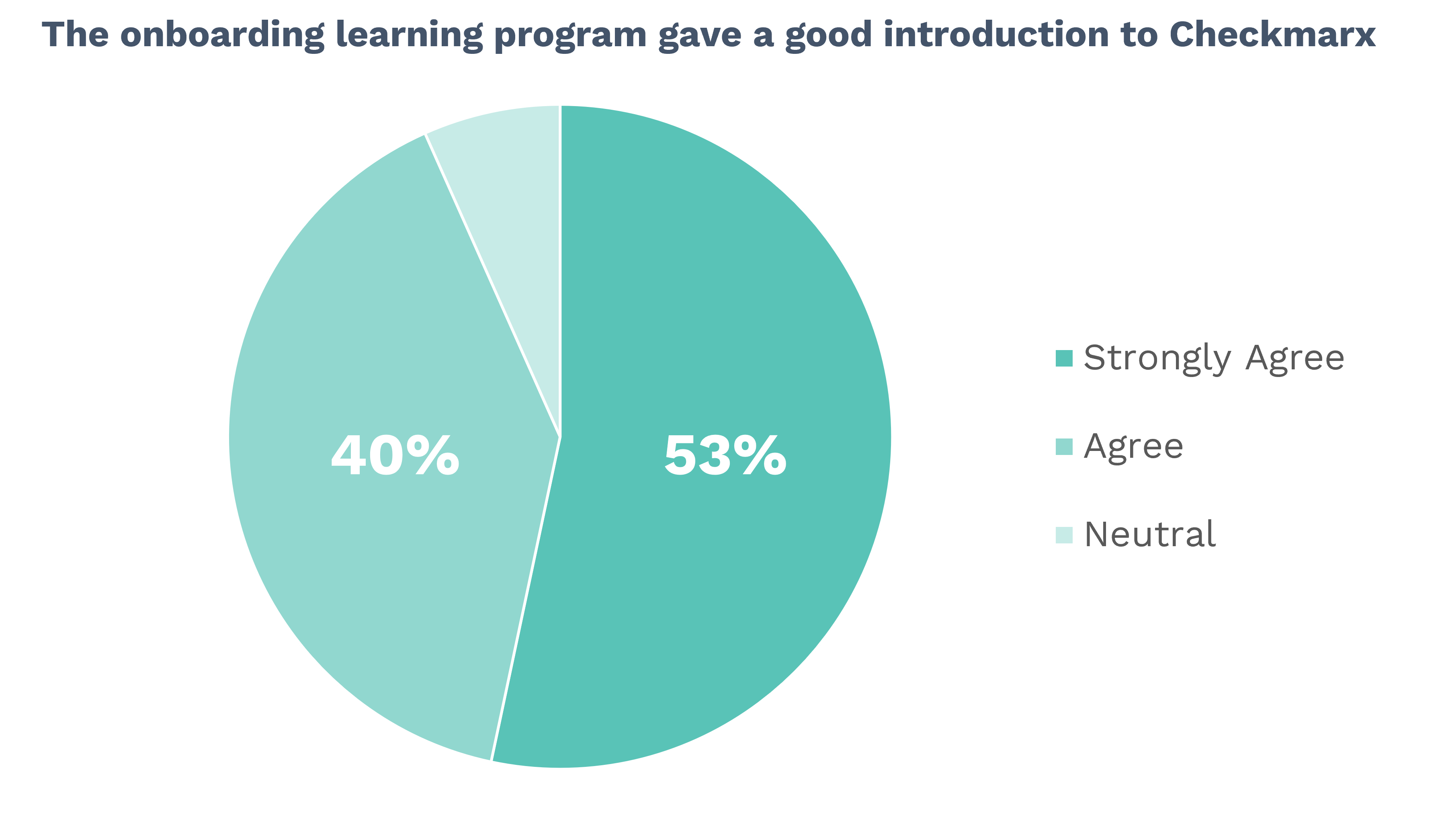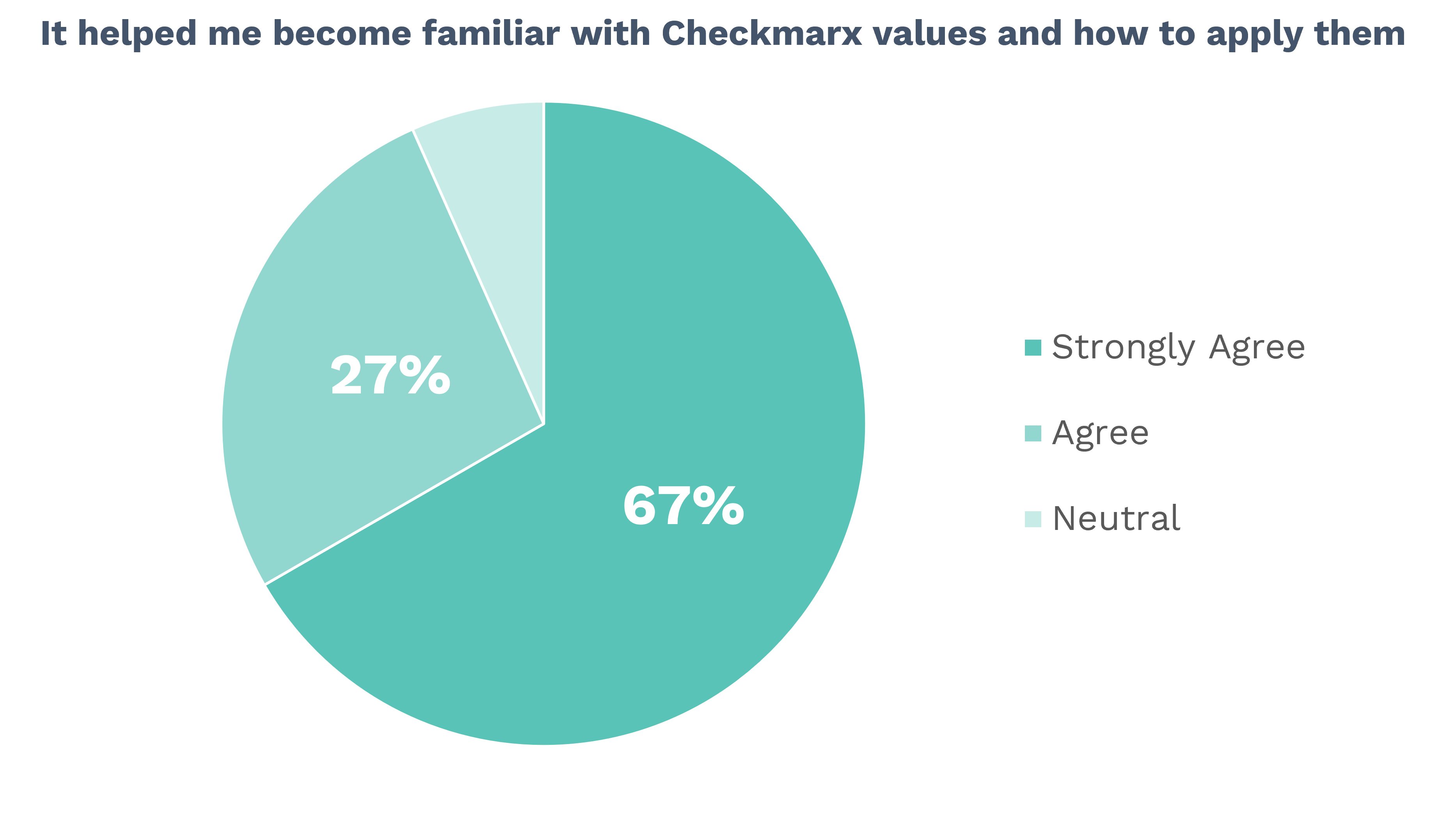 What's next for Checkmarx and Learn Amp?
In the software security business, ongoing learning is a must.
For Checkmarx, the priorities for the future are to fill in existing and emerging gaps, focusing learning pathways on skills development and enhancing competencies. Looking outwards, they want to continue building and sharing peer-to-peer expertise to cultivate collaborative environments for learning.  
Want to find out what Learn Amp People Development Platform can do for your business?